Get a Leg Up with These Easy Exercises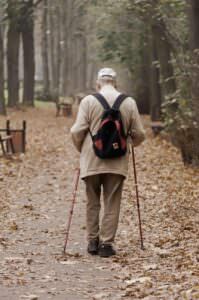 Photo Courtesy of Pexels.com
Lockdowns, shelter-in-place orders, visitor restrictions…who isn't tired of all the prohibitions brought on by Covid-19.  Yet, better safe than sorry prevails – especially when it comes to congregate living for seniors.  So, what can you do within the confines of your apartment to keep physically strong?  Read on!
My Story
I was scheduled to have my left knee replaced on March 24th, but those plans were derailed when elective surgery was put on hold in order to assure enough beds for Covid-19 patients.  Then, at the end of April, when elective surgeries were given the green light, I learned that I could have my surgery on May 14.  Everything went well and I'm delighted to report that recovery has been a bit easier than I anticipated.
As with any joint replacement, physical therapy plays a big part in a successful recovery.  It's easy to become depressed because of the pain, stiffness, and swelling; but, I was forewarned not to give in to that!  However, I must say that it was lonely and isolating once I got back home.  I had to be conscientious about wearing my mask, washing my hands, and limiting visitors.  My friends and children, along with my spouse, offered moral support and meals but visits were short and absent of hugs and kisses.  Reflecting back on this time, I am reminded of what the residents of Ashton Place and other congregate living communities have endured.
After I was home for a few days. I was given my marching orders by my no-nonsense physical therapist.  At first, the exercises, which were once so simple to do, required a great deal of effort.  Naturally, I fatigued easily but fought off the urge to have a pity party.  After all, my husband was waiting on me hand and foot and I really wanted for nothing.  I had to remind myself to be grateful and stay positive!
The first 3 weeks were a blur of nurse visits, physical therapy visits, and repetitive exercises, icing, and elevation – all of which I dreaded.  Then, almost overnight, I found that the exercises, once completed, made me feel great.
Let's Keep Those Legs Moving!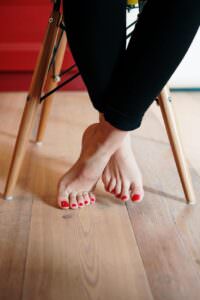 Photo Courtesy of Pexels.com
If these simple, yet effective strengthening and stretching exercises make me feel better every time I do them, I know they'll make you feel better too.  We all have to keep our strength up and keep moving during this pandemic.  Because these exercises can be done from a sitting position or from standing while holding on to a counter or sturdy chair, the potential for losing one's balance is significantly reduced.  Here are some exercises that I think may become part of your daily routine, several times a day, if you work slowly and deliberately.  Once Covid-19 is no longer a threat, you'll be able to walk in confidence with stronger legs and flexible joints.  And who knows, it may become part of your daily routine as it has mine.
Ankle Flexes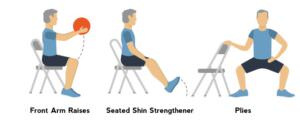 Illustration:© COPYRIGHT 2020 EVELO. ALL RIGHTS RESERVED
Start by sitting on a sturdy chair such as a kitchen or folding chair.  Point your toes up keeping both heels on the floor.  Then press your toes to the floor as if stepping on the gas and raise your heels up off the floor.  Repeat 5-10 times and work up to 20 repetitions.
Standing Knee Flexion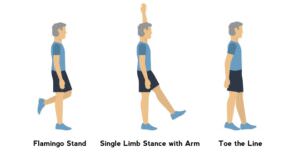 Illustration:© COPYRIGHT 2020 EVELO. ALL RIGHTS RESERVED
Start by standing in front of a counter or sturdy chair.  Place your hands on the counter or chair in order to maintain your balance.  As you become more confident with this exercise, you can loosen your grip and gently hold on.
Lift your leg and bend it back at the knee – gently – as if you are going to kick your "back end".  Then, gently place your foot back on the floor. Hold the lift for 5 to 10 seconds and perform 3 on each side.   Increase slowly over the course of a few days or weeks up to 20 repetitions on each leg.  You can alternate legs at any time if the leg that is supporting you gets tired.
Sitting Knee Extensions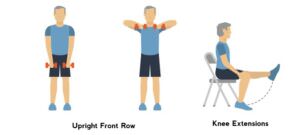 Illustration:© COPYRIGHT 2020 EVELO. ALL RIGHTS RESERVED
Start by sitting on a firm chair like a kitchen table chair or folding chair as pictured above.  Straighten your leg using slow controlled motion.  Hold for a few seconds and bend your leg back to the starting position.  Start out with 5 repetitions on each leg and work up to 10.
Seated knee lifts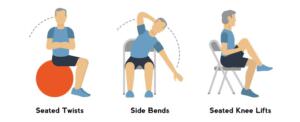 Illustration: © COPYRIGHT 2020 EVELO. ALL RIGHTS RESERVED
Sit upright and do not lean on the back of the chair. Lift your leg with your knee bent and alternate legs as if you are marching.  Place your foot down with control. Do 5 lifts with each leg working up to 20 repetitions.  Don't overdue!  Only lift your legs to a comfortable level.
Exercise Illustrations:  https://www.evelo.com/exercises-for-seniors/
For more articles by Virginia Tortorici, click here.
« View all posts