Why Community Living is Making a Rebound
Poet John Donne said it explicitly: "No Man is an island, Entire of itself".  He went on to say "because I am involved in mankind".  Are you currently involved in mankind, or are you living in your own very small world?  What does the word community mean to you?  Let's take a look at how being part of a community has waxed and waned and waxed again over time.
A Bit of History
Community living is nothing new.  Cavemen did it. For example, they shared their game, fruits, vegetable and herbs with one another and lived peacefully with family and strangers in their dwelling places all over the world.
Medieval kingdoms of knights and peasants, Kings and Queens, maids and cooks lived in community settings as well.  This way of egalitarian living led to strong social circles and of course, increased survival rates!
Facts from The Smithsonian National Museum of Natural History:
Beginning 2.6–1.8 million years ago
Some groups of early humans began collecting tools and food from a variety of places and bringing them to favored resting and eating spots.  Sharing with others is a form of communion and connection.  This points to the fact that people have always needed other people. http://humanorigins.si.edu/human-characteristics/social-life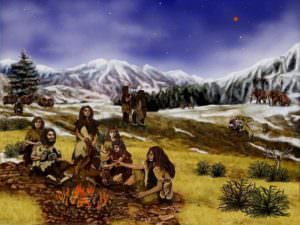 During the Middle Ages, communal living remained the typical household structure across most of Europe. Historian John Gillis claims that medieval homes consisted of a mix of friends and extended family, and that single-family households were uncommon in most of the world. As a result, a medieval meal and nearly every

part of life,

was a communal affair. The entire household, including servants, would eat together.  People needed one another and depended upon one another and were therefore inclusive.
It wasn't until the 12th century that households became organized around monogamous couples and their children in Western Europe. However, they were far from the nuclear family, with various townspeople, poor married couples, other children, orphans, widows, elderly people, and tenants often living alongside them in communal housing.
     https://architecturecompetitions.beebreeders.com/history-of-communal-architecture
History Repeats Itself in the 21st Century
As civilizations developed and the industrial age emerged, the concept of communal or community living declined in popularity.  However, it has made a comeback today in various forms.  One such community is in our own backyard:
Eco Village in Ithaca NY is described as follows:
Co-housing, originally from Denmark, is an increasingly popular form of community-oriented housing which balances the privacy of individual homes with the strong neighborhood ties that develop from shared interests. In co-housing communities, cars are parked on the periphery of the neighborhood, and beautiful paths wind through the central gardens between homes. A Common House provides a place to gather for optional shared dinners, parties, meetings, laundry, yoga classes, kids' playrooms, and more. In our community, we enjoy home-cooked meals in our Common Houses three or four times a week. Food is often sourced from our three on-site organic farms, and stored in our village root cellar. Community gardens are enjoyed by anyone who wants to "grow their own." https://ecovillageithaca.org/live/neighborhoods/
There are hundreds of "intentional communities" forming, as we speak, with many different models of communal living.
Transition to Senior Living Communities
Beginning in the 1970's Senior Living Communities sprung up all over the nation and all over the world offering everything from patio homes to apartments, and assisted living.  Why the popularity?  Because "One is the loneliest number that you'll ever do", as the band Three Dog Night sang in 1969.  Isolation is an epidemic among the aging population.  There is an emotional nutrient offered in a community setting that can't be matched.  History told us so.
According to the site socialmettle.com the following are some of the benefits which lead people to seek community living
People have started to prefer this kind of living to overcome loneliness and isolation.
They want an environment that can give them mental peace
It involves overcoming the hurdles of life, together.
People feel alone without family, friends, or relatives. This feeling of loneliness can lead to depression and other mental health problems. This is not the case when living in a community. Individuals share their thoughts and feelings and build mutual trust.
An individual going through bad times feels supported and cared for, in a community.
People today are part of many communities that encourage sharing and cooperation, sometimes among people who have never even met. These alliances enrich our lives and enable us to share expertise and the risks of survival. https://socialmettle.com/communal-living-benefits-issues
So, as we continue to strive for meaning in our lives, let's not forget Barbara Streisand's 1964 classic song, People.  People who need people are the luckiest people in the world.  What communities are part of your life?
For more information click on the following links:
« View all posts