Use This Commonly-Skipped Step to Make Your Search Easier
People avoid giving communities a call for many reasons. One of the most common fears is that talking to a community is the same as committing to it. That's not the case.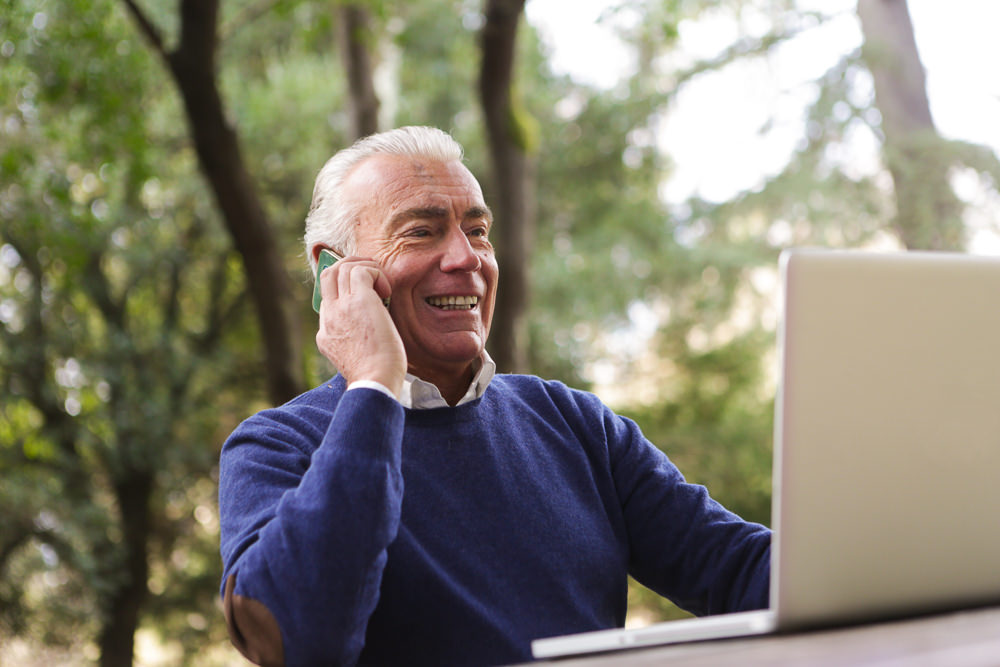 Many people miss out on a helpful resource when looking for senior living options. It's surprisingly common for prospective residents and their families to perform online research and take tours without ever picking up the phone and talking to community staff. Unfortunately, missing out on those personal conversations can make your search more time consuming, make it harder to find a good fit, and leave you without any established relationships at the community you end up choosing.
Communities field a wide variety of calls, from people who may still be years away from making a decision to people who have their mind made up and are looking to move in as quickly as possible. Those calls are all welcome—staff members won't assume you're planning to move in until you say so. Like a job interview, both sides want to find the right fit. Residents, families, and communities are all better off when their interests are aligned and their personalities work well together. There's no need to feel pressure to commit after chatting with a community on the phone.
Conversations are just one important step in the search process. Ideally, they fit in after your initial online research and before the in-person tours. Each part of the process serves its own purpose. While you can overlap the steps a little bit, it can feel confusing or counterproductive to change your direction too many times. You will have better results approaching your search with more structure.
Step One: Online Research
The best place to start your search is online. You can use government and organizational websites, online maps, and other methods to quickly identify which communities in your area meet your general criteria. Location is often the most important factor in a family's initial survey. The closer your loved one can be to other family members, the better. The internet does a great job of providing location data and even mapping out travel times. Depending on your technical aptitude, it might take you less than ten minutes to create a list of all the senior living communities within a certain distance of your family members.
Online research is valuable because it is easy to quickly gather a lot of basic information. Searching online is the most efficient way to identify senior living communities in a specific area. It also lets you quickly answer generic questions, since most websites include a Q&A or About Us section. Once you have your shortlist of communities, it's time to reach out so you can start to get to know them better.
Step Two: Personal Conversations
Personal conversations are the best way to find a good match for your loved one. Moving into a senior living community is a lot like building a new friendship. You could be friends with anyone you meet, but it's always easier when you have some common interests and shared values. Personal conversations let you get to know the culture of the community. You'll get a great sense for day-to-day life because you'll be talking to the people who run the facility, which will help you know whether each facility would be a good fit.
Conversations also save you time. You can rely on the staff's inside knowledge to quickly answer your technical questions instead of delving deep into regulations or financial packages. Staff can also give you advice based on their past experience with people in similar situations to yours. This could include when you want to list your house, how much clothing your loved one should bring, or how to discuss difficult topics with your family members.
Finally, conversations with staff members are the first steps in building a relationship with the people who will care for your loved one. Having a six-month head start on "meeting the staff" will make you and your loved one much more comfortable once they move in. You'll know what role each staff member has and how they can help your loved one. Most importantly, those relationships will make it easier for your loved one to deal with the changes that all moves bring. A familiar face (or even voice) can go a long way in a new environment.
Step Three: Guided Tours
Tours come in handy once you've whittled your list down to just two or three options. They help you decide by letting you spend time walking around and seeing everything first hand. It's a great opportunity for you and your loved one to get the most in-depth look at what it's like to live at each of your top picks. While COVID-19 temporarily stopped people from touring in person, virtual tours have made great strides and regular touring will be back before long.
People often try to start touring facilities early in their process. This is less than ideal. Because you're likely to have a lot of questions, you'll have a hard time paying attention to the important details. It can be easy to miss small but crucial cues—like how staff and residents treat you and your loved one—if you are trying to work your way through a long list of questions while you tour. It's far better to cover the in-depth information-gathering stage in a personal conversation. That leaves you free to explore and pay attention to your surroundings as you walk through what could be your loved one's new home.
A Good Fit Makes All the Difference
The three stages of your search for a senior living community are all equally important. Finding a great fit for your loved one is good for everyone involved, so it's worth taking the time to go through each step.
– Starting with online research saves you time down the line, and helps you be aware of all the options.
– Discussions with staff take that knowledge the next level, and give you the information you need to whittle down your list to a few favorites.
– Choosing between great options is hard, and that's when it's time for a tour (be it virtual or in person.) Touring will answer your final questions and prepare your loved one for their upcoming move.
If you're stuck in the process or you feel like it's not going the way you had hoped, don't forget that community staff have helped people like you solve problems just like the ones you're facing.
Want to learn more about Ashton Place? Visit our Q&A page and find answers to common questions.